Posts for tag: nutrition
By John G. Keeton, DDS, PLC
March 26, 2021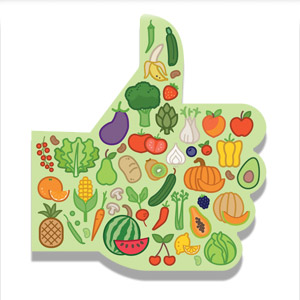 There are great health benefits to eating better, including for your teeth and gums. But to determine your ideal diet, you'll have to come to terms with carbohydrates, the sugars, fiber and starches found in plants or dairy products that convert to glucose after digestion.
Carbohydrates (also known as carbs) are important because the glucose created from them supplies energy and regulates metabolism in the body's cells. But they can also create elevated spikes of glucose in the bloodstream that can cause chronic inflammation. Besides conditions like diabetes or heart disease, chronic inflammation also increases your risk of periodontal (gum) disease, a bacterial infection arising from dental plaque.
Many concerned about this effect choose either to severely restrict carbs in their diet or cut them out altogether. But these hardline approaches deprive you of the benefits of carbs in maintaining good health. There's a better way—and it starts with understanding that not all carbs are the same. And, one difference in particular can help you properly manage them in your diet.
Here's the key: Different carbs convert to glucose at different digestive rates of speed measured on a scale known as the glycemic index. Carbs that digest faster (and are more apt to cause glucose spikes in the bloodstream) are known as high glycemic. Those which are slower are known as low glycemic.
Your basic strategy then to avoid blood glucose spikes is to eat more low glycemic foods and less high glycemic. Foods low on the glycemic index contain complex, unrefined carbohydrates like most vegetables, greens, legumes, nuts or whole grains. High glycemic foods tend to be processed or refined with added sugar like pastries, white rice, or mashed potatoes.
Low glycemic foods also tend to have higher amounts of minerals and nutrients necessary for healthy mouths and bodies. And fresh vegetables in particular often contain high amounts of fiber, which slows down the digestion of the accompanying carbohydrates.
Eating mainly low glycemic foods can provide you the right kinds of carbs needed to keep your body healthy while avoiding glucose spikes that lead to inflammation. You're also much less likely to experience gum disease and maintain a healthy mouth.
If you would like more information on nutrition and dental health, please contact us or schedule an appointment for a consultation. You can also learn more about this topic by reading the Dear Doctor magazine article "Carbohydrates Linked to Gum Disease."
By William L. Metz, D.D.S.
January 02, 2018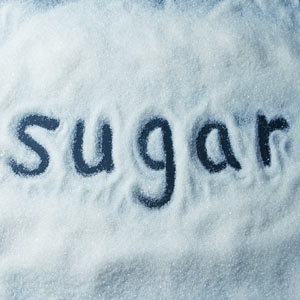 It's easy to go overboard with sweets during the holiday season. But overconsumption of sugar, month after month, can jeopardize your oral and general health. A sugary diet nourishes the bacteria that cause tooth decay. Eating too much sugar over time also promotes general health problems such as diabetes and excessive weight gain.
The beginning of a new year is a great time to bring your diet back into balance. But if you really want to cut down on sugar, you'll need to be aware that there is a lot of sugar hiding in foods you where wouldn't normally suspect it. Here are some examples:
Ketchup. Do you like ketchup on your burger and fries? For every tablespoon of ketchup you use, you'll be adding about 4 grams of sugar (one teaspoon). That can add up pretty quickly into a significant amount of sugar!
Canned tomato soup. Read the label of your favorite brand and you might see as much as 12 grams of sugar per half-cup serving. That equals three teaspoons of sugar in every half cup of soup—even more in a full bowl!
Granola. You may think of granola as a healthy choice for breakfast. Yet you're likely to see sugar listed as the second ingredient on many favorite brands—right after oats. This typically adds up to 15 grams of sugar per serving. That's almost 4 teaspoons, in a food promoted as healthful!
Yogurt. Here, the amount of sugar varies widely among brands and flavors. One container of vanilla yogurt might contain 3 or more teaspoons of added sugar. Put that on a breakfast serving of granola, and your first meal of the day has already topped the 6-teaspoon daily limit recommended by the World Health Organization.
So, to prevent sugar from sneaking up on you, it's important to read those labels! And if you have any questions about sugar and oral health, please contact us or schedule an appointment for a consultation. You can learn more by reading the Dear Doctor magazine articles "The Bitter Truth About Sugar" and "Nutrition and Oral Health."
By William L. Metz, D.D.S.
September 11, 2017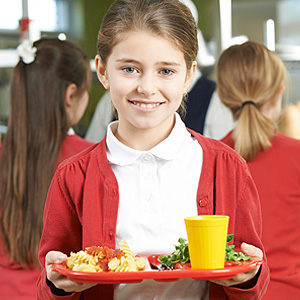 Sending the kids back to school means it's time to start packing those lunch boxes! What your children eat and drink can have a big effect on their oral health. So it's important to know what the best choices are… and what to avoid. Here are some tips for sending your kids off with a tooth-healthy school lunch every day.
Tip 1: Avoid Sugary Drinks
The scientific evidence is overwhelming that sugar is the most important dietary factor in causing tooth decay, and soft drinks are the largest source of sugar in many kids' diets. Even natural fruit juices have unhealthy amounts of sugar. So when it comes to beverages, keep it simple: H₂0 is the way to go!
Tip 2: Get Creative With Shapes & Flavors
Healthy food that's low in sugar doesn't have to be boring! You can use cookie-cutters to shape calcium-rich cheese and whole-grain bread into flowers, stars — even dinosaurs. Unbuttered popcorn can be flavor-boosted with a dash of cinnamon or parmesan cheese. There are all kinds of ways to get creative.
Tip 3: Sweeten The Deal With Fruits & Veggies
While fruits and vegetables do have some sugar, they are a good choice for a healthy smile — and a healthy body. That's because they also contain plenty of water and fiber, which slows the body's absorption of the sugar… and even helps clean the teeth! Kids enjoy the naturally sweet taste of bite-sized fruits and vegetables like cherry tomatoes, baby carrots and seedless grapes. And the cheerful, bright colors of these nutritious little nuggets make them even harder to resist!
Of course, even with a healthy diet, your kids still need to practice good oral hygiene at home, and have regular professional cleanings at the dental office. If you have any questions about nutrition or oral hygiene, contact us or schedule an appointment for a consultation. And have a happy, healthy — and delicious — return to school!